habit of moving effortlessly
Being at home with myself
Getting into the habit of moving effortlessly
Where the most difficult things are achieved quite easily
Get out of your Mind and watch your body move
Bodyhood is about understanding our body less as a machine and more as a learning tool on our journey towards a unity of body, mind and spirit.
"Power without Force" is our training philosophy. Learn to perform movements with as little resistance as possible. We offer you practical tools that bring more ease into your movements and give your life more balance, harmony and vitality.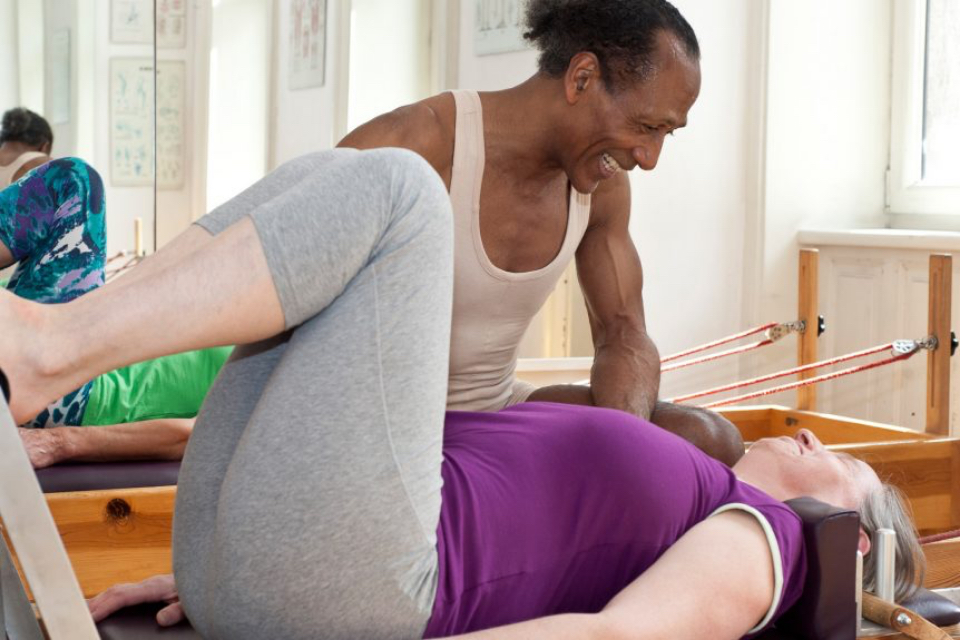 Power your mind to expand.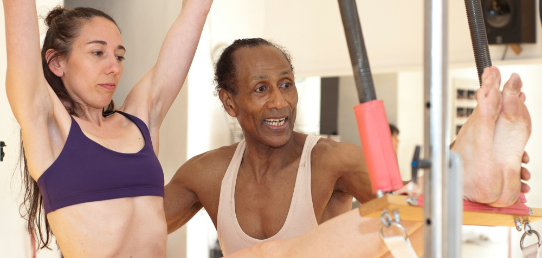 Workout on the mat, reformer, Wunda Chair and Cadillac.
Solve specific problems and enjoy constant supervision in our individual, duo and trio classes. Get into the rhythm and flow of movement in our mat group classes. The to-be-one workshops teach you to be aware of your body.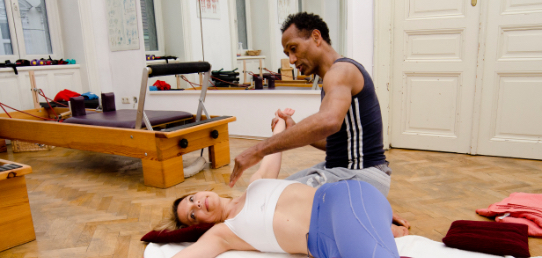 Stretch your tissues and relax your nervous system in the Myofascial Group Class and Myofascial Massage.
In the group class you assume and hold very specific body positions. You relieve the pressure on your joints, muscles, fibres and tissues.
During the fascial massage I show you and your body new ways to move. You can let go and release tension.

When I give a myofascial massage, I show the body new possibilities, new alternatives and new options to move. I do not heal, I simply re-organise.
Charleston Samu Rii Marquis
I am a dancer, choreographer, performance motivator and Pilates and body awareness coach. I was born in the Caribbean on St. Lucia and raised in London. I studied dance and Pilates in London and the USA.
The essence of my knowledge, however, does not come from public institutions but from my direct confrontation with the problems of my students and clients; from studying, researching and searching. In this way, I succeed in seeing possibilities even when there seem to be none.
You have shown me a path to truth and I enjoy learning to walk on it, even when I am still on the beginning of a journey that will never end …. Thank you for shaking me and my patterns .. I always walked out of the studio feeling a bit changed.
I enjoyed your workshop thoroughly. It was just as I like it: A lot of experiences, eye openers, a good rhythm … Your version of Pilates never fails to relax my body and mind. It makes me feel upright, rooted to the ground and lets me sleep well.
Bodyhood Pilates has been a real life-changer for me …. I had been to various doctors, but nothing really helped me until I started doing Pilates training with Charleston … Working with Charleston is completely different from other exercise classes because of the personal attention he gives you … He knows the body so well and has an enormous repertoire of different exercises … and never lets you get away with doing an exercise halfway, or even three quarters of the way … I am 70 years old and I can walk as much as I like … but not only my body but also my mind is getting healthier.
Your Elongation Reformer Workshop: I got new enthusiasm because of your deep approach. I felt "Power without Force" coming from inside. Coming home I felt totally awake, physically and spiritually, each cell of me was ALIVE and PRESENT! I felt HAPPY, STRONG, POSITIV, FLYING, SHINING … SENSUAL!
Thank you again for this great workshop! How you teach Pilates is fascinating, exciting and challenging. You go so deep that it is a joy and a great benefit for all who may experience it.
I do not know what you have done with this damn knee, but: THANK YOU – it is a great feeling to run around without any pain :-)))
Pilates, I discovered is amazing for strengthening my muscles, and is a good foundation for the body to dance. ... You were a great teacher for me not only because of your knowledge but also how you presented it, and how you approached it in general.
I would just like to tell you that I am very glad to be finally on "board" with you, a coach I consider the very best of all those I have ever consulted throughout my whole life.
My posture has improved, my body is more flexible, and I have become more aware of my movements.
I feel so good! … I believe it is because of your training! ... My pain in the injuries is almost gone. … I am not sure that only 5 sessions with you are responsible for my great condition, but I have no other explanation for it… So, thank you very much!!!
Charleston Marquis' supernatural gift is to view the human body objectively, which immediately enables him to see injuries that are veiled to the scrutiny of magnetic-resonance … His sixth-sense and experience allow him to get results as soon as possible.